The problem I have with buying furniture while the house is under construction is that I have months to second guess my choices. Delivery is scheduled for next Monday, and I'm like 70% sure I want to change the dining room set. I know the people at Macy's are going to be mad because they've been storing the set we picked out since the end of November, but it was a floor model and not a custom order, so it could be worse.
I think the set we chose initially is very pretty and I still like it, but it's just the wrong style (and it's pretty small).
I'm leaning towards this...
Macy's describes it as, "Rustic farmhouse design with a modern edge." Sounds good to me. My only concern is how the wood will look with our floors, but an area rug would probably solve that problem. I'm also not a huge fan of the table legs, but I don't hate them either. Even though we would still have 6 chairs, the table is about 10" longer and would fill the room a bit more.
So, time for questions...Opinions on the new set? Should we get the matching buffet or put this piece that we already bought in the dining room (originally planning to put it in the kitchen)?
I'm waiting until we're in the house to buy any accent or decor pieces. I did find a rug for the office that I'm in love with, but I'm going to wait to order it until the furniture is set-up so I can figure out which size will work best.
I'm terrible at visualizing what things will look like in a room so I usually end up buying one of everything, taking it home to see what works, and then returning the leftovers (e.g., I bought 2 duvet covers this past weekend). I've been looking in stores and online, but I've had no luck finding any curtains yet. I like this pair from Crate & Barrel, I'd just prefer the stripe be a little more taupe.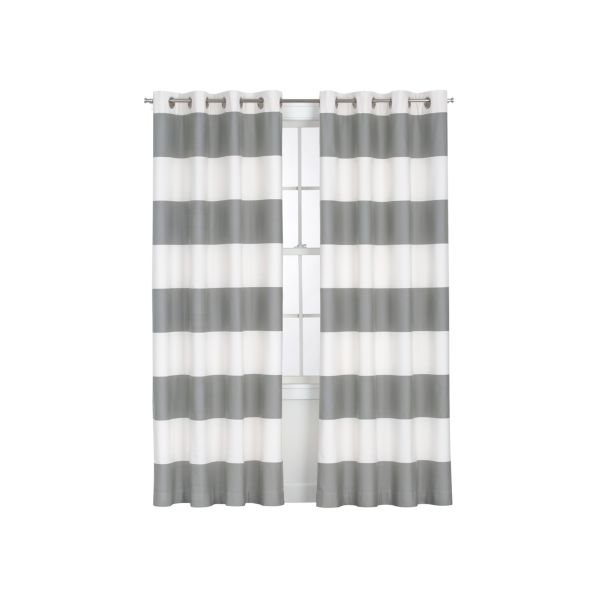 I really like this look, so if anyone comes across panels with a wide horizontal stripe while you're shopping for your new home, let me know.